I still don't know why I never want to eat aubergine or eggplant. Aubergine (in UK) or eggplant (in US) or solanum melongena (in Latin word) is a plant that originally from India. There are many varieties and colors of this fruit. In Indonesia, we called it 'terung' (some people pronounce it as terong). My Javanese's friends like to put it in their 'lalapan' (just like salad, from vegetables). My mom and my husband like it if it's fried or baked and then eat it with 'sambal terasi' (chili sauce with shrimp paste) or 'sambal kacang' (chili sauce with peanut). Me? Never eat it even though I love 'sambal terasi'. Maybe because I don't like when it is uncooked or mashed.
Then, one day, my housemate Isa was cooking a kind of lasagna with aubergine as one of the ingredient. Surprisingly, I like it. It's not like a typical of lasagna I know but since it has many layers so we called it 'Lasagna ala Isa'. So, after watch her some times, now I know how to make it by my self. Beside of its simplicity, also this kind of dish is healthy.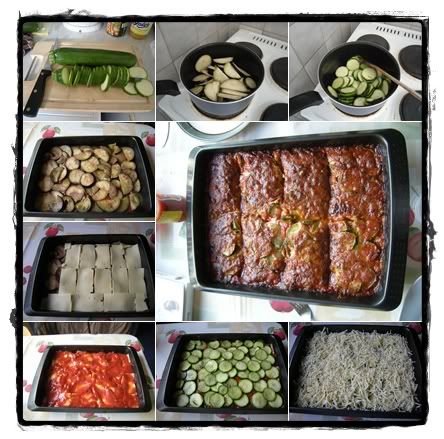 Here is the recipe :
Ingredient :
Aubergine (or eggplant or whatever we called it)

Courgette

Grated Cheese

Sliced Cheese

Tomato Sauce

Ground Paper

Salt

Olive oil or sun flower oil
How to make :
Chop aubergine and courgette into pieces, separately. Frying aubergine in a pan with oil and pour salt and paper (just a little) and then cover it with lid. Do the same thing with courgette.

While preparing for the layers, turn on the oven so that it already heat when you put the lasagna

Take your ovenware (pyrex) and put tomato sauce as the first layer. Spread until it covers all the bottom.

Then, put pieces of aubergine as the second layer. After that, cover it with sliced cheese.

Put tomato sauce again and then pieces of courgette on the top of it.

As the last layer, spread the grated cheese.

Put in your oven in 150 degree for 30 minutes and switch it to upper heat for 15 minutes

Serve while still hot with bread.
Hmm..yummy !!
Thanks to Isabel who finally can make me eat aubergine because of her delicious recipe.
Buen provecho !!!
Posted at 04:14 am by
dejablue
om kumiz


February 8, 2010 07:00 PM PST



enak memang tawwa...